Digital Signage Freeware Software (for German Market)

You want to set up a digital signage solution in your company, restaurant, retail etc.? We have looked at your possibilities for you to build up digital signage yourself. Condition is: (mostly) on German, free and ideally open source (open source code) and real "freeware".
Conclusion: There are some good and free digital signage software packages, but few completely on German.
Digital Signage Software – Free
Our favorite Foyer TV for WordPress has not yet been translated to German. This does not mean that you cannot show German slides with it, only that the interface is partly in English. And since the plugin runs on WordPress, which is available on German, only a few words should not be translated.
And what content and in which language you use this one is entirely up to you.
That is why Foyer is our favorite even under these conditions.
Digital Signage Software as Freeware
The term "freeware" is to be considered in a differentiated way nowadays. The least software is now completely free of any licenses (and even then e.B. the author has rights to it),but a complete culture of free licenses has formed. Therefore, you should always check whether you can use the software free of charge under the conditions you have planned (commercial?).
WordPress as a basis for open source digital signage with Foyer.TV
With so-called "plugins" WordPress can be expanded as desired. Plugins are – often free – additional programs that can be easily added to WordPress from the dashboard. Everything is amazingly simple and just well done by the WordPress developers!
So, our favorite freeware Digital Signage Software is Foyer TV, which itself is based on WordPress.
Foyer itself is one of these free plugins, programmed for WordPress by the Dutchman Menno Luitjes and published and maintained on the coding platform Github.
A word about Github: This platform can easily incorporate its own improvements into existing code, so that the "community" has the ability to create "forks" (branches) of a software and develop it in a different direction or simply make suggestions for better code. The use of Github as a developer platform also has the very positive effect that even the departure of the original developer does not automatically lead to the end of a project (due to missing updates). In this respect, using Github makes this software a better investment (you build your digital signage infrastructure on it, even if you don't pay for the software itself you invest resources).
With the plugin Foyer – based on the capabilities of WordPress – a simple but complete content management system based on WordPress is available…
The plugin itself has not yet been translated to German yet, but this only concerns the admin area. Of course, you can design all screens (screens) the way you want, in any language you want. In this respect, Foyer offers you a German language digital signage system if you use it this way.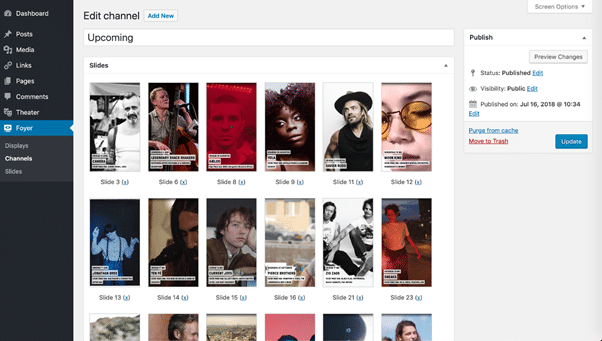 The results with Foyer are impressive:
Extension: Digital Signage for Live Events
If you are looking for a system suitable for theaters, cinemas, stages, in short, everything around dates for (live) events, then Foyer is also compatible with the also free plugin "Theater", which you can also add very easily to WordPress.
Also this plugin is still being developed and highly praised by users on the WordPress plugins page.
And Theater is available completely on German.
Free Digital Signage Software (single Display) by Gauselmann
Gauselmann, known for its Merkur arcades, has made a free version of its screen software available for free download.
However, this software is already older (Windows Vista as a minimum requirement, on the other hand it is a pure one-screen solution, i.e. not a cloud-based, multi-display advertising screen system.
The system is also not open source (more visible and changeable source code) or freeware but belongs to Gauselmann. The usage rights to the software were not indicated on Gauselmann's website, which very much looks like coming straight from the 1990s.
But if you just want to play one screen with simple content, this software could be a solution. At least the software is in German.
Free digital signage for schools and government
If you want to "distribute" information such as room plans or agency hours, you should take a look at the open source digital signage software tabula.info by Christian Bienmüller. He is a system supervisor and teacher at Kronberg-Gymnasium Aschaffenburg and has obviously developed the code for his school.